Leaving Home
Video installation, shot on super-8 and transferred to video, 3.45min, 1997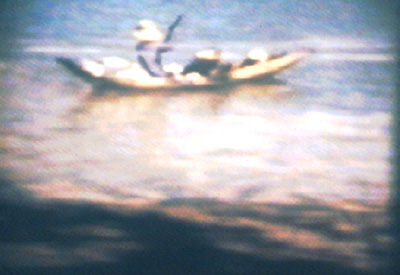 A camera scans repeatedly a vast Canadian iced over riverbed. Periodically an Asian boat is superimposed, drifting in and out of frame and serving as vehicle, as kitchen and as shop to its owner.
The vast landscapes and ongoing camera movements reflect an ongoing journey and an absence of boundaries.
The video explores that which Walter Benjamin has called the "art of straying", a deliberate practice of getting lost, both literally and metaphorically. A wandering of this kind is a refuge to the Self, which identifies with a nomadic kind of experience.
For someone who never really felt at home, leaving home means leaving nothing behind.
Supported by William Brooker Scholarship / Wimbledon School of Art 1997
Installation
'3x10_5 km/sec', Standpoint Gallery, London 25th March - 25th April 1999, curated by Splaush! [Julia Spicer and Kay Walsh]