Moebius
Video, 2007 duration 7'40''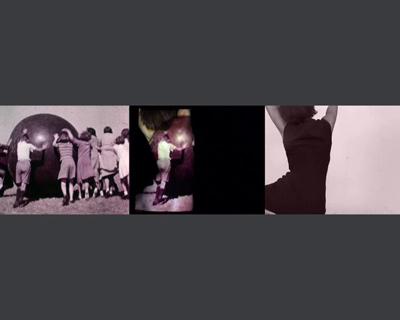 Programme notes from 'Moves' festival brochure.
Pascale Moyse, 'Moves' festival director, in conversation with the artist.
PM: How do the moving element and the presence of the body interact with the film medium and the screen?
CK: Moebius combines the virtual and the real, the past and the present.
The starting point for this piece is archive footage of children playing with a giant ball.
The ball causes the children to move while the children move the ball. The archive footage is projected onto a body to replay the dynamic of the game; the projected ball becomes the impulse for the body to move, while the body makes visible the images of the past.
The body and the projected image are the materials with which I work. One is as real as the other.
The process is physical work while the outcome is nothing but a series of images.
Through this complexity the project fluctuates between actual event and idea.
PM: How does the concept of the Moebius strip relate to your work?
CK: The Moebius strip is a 3-dimensional shape which has only one side and one surface. As metaphor for the body-mind it suggests that conventional divisions between inner and outer realms do not necessarily apply.
Moebius explores the body-mind as a unique an intimate encounter of self and other, past and present, as ongoing event and continuous dance always in the making.
Constructed as video triptych Moebius is not co much concerned with visual spectacle as with the articulation of process. Installed as an infinite loop on adjacent screens the work echoes the always incomplete dialogue between past and present. Sited within a window gallery and viewed from the street the work returns to and becomes part of the fabric of the everyday.
Screenings
2009
CINEMOVES, touring Australia (Sydney, Perth, Hobart, Darwin), May 2009.
http://www.reeldance.org.au
INTERNATIONAL VIDEO DANCE FESTIVAL, Le Breuil, Burgundy, France, 2009.
SANS SOUCI FESTIVAL OF DANCE CINEMA 09, Boulder Museum of Contemporary Art, Colorado, US, March 2009.
http://sanssoucifest.org/programDairy2009.php
2008
DANÇA SEM SOMBRA 08, Lisabon, Portugal, 2008.

BIENNIAL SYMPOSIUM ON ARTS AND TECHNOLOGY, Ammerman Centre, Connecticut, 2008.

4TH INTERNATIONAL DANCE FILM FESTIVAL, Yokohama Zaim, Japan 2008.

MONTAGE VIDEO DANCE FESTIVAL, FNB Dance Umbrella, Johannesburg, South Africa 2008.

ART TECH MEDIA, Puerto de la Cruz, Teneriffa Spain 2008.
2007
SCREENDANCE, Virginia Commonwealth University's Department of Dance and Choreography in Richmond, Virginia 2007.
ART TECH MEDIA, Madrid Spain 2007.

VIDEODANCE2007, Athens/ Thessaloniki, 2007.

AMERICAN DANCE FESTIVAL, Durham, North Carolina, USA. 2007.

DANÇA EM FOCO, Festival Internacional de Vídeo & Dança, Rio de Janeiro, Brazil, 2007.

OPEN SOURCE VIDEO DANCE, Findhorn, Scotland, 2007.

INTIMACY ACROSS VISCERAL AND DIGITAL PERFORMANCE, Goldsmith University, London, 2007.


Installations
2010
WHAT IF… FESTIVAL, Siobhan Davies Studio, London, 7-11 April 2010
2009
THE PARK GALLERY, Falkirk Scotland, April 2009.
2008
'MOVES' film festival, Manchester Metropolitan University, UK, 2008.