Stacking Incidentals
Video installation with eight loops, July - October 2009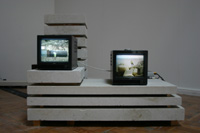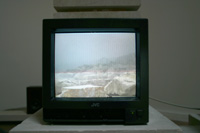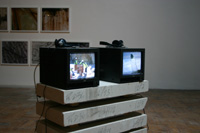 Above: Stacking Incidentals, installation, Isle of Portland, UK 2009
Below: Stacking Incidentals, setting up for the exhibition
Video installation at The Portland Quarry Sculpture Trust, Portland, Dorset, UK.
As part of SEEING THROUGH STONE exhibition at:
The Drill Hall, Easton Lane, Isle of Portland,
Dorset, DT5 1BW
Download exhbition details pdf
Collaborative project with Amy Cunningham and Connall Gleeson working as The Oolith Project.
The project incorporates the collaborative performance practice of its members, making use of sound, movement, photography, film, video and local materials.
The project investigates and responds to the unique landscape, geological features and the particular history of Portland.
Read Claudia's blog post on the exhibition.


Catalogue extract

Our first impression of the Independent Quarry were fairly similar; Amy spoke of an epic landscape full of romantic potential, Conall of a silent landscape, which still echoed former quarrymen, and I saw the material for tragedy in the vast quarried space that lay before and below us.
Remnants and reminders of industrial-size activities were all around, deep wide tyre tracks carved into the mud, mountains of shingle and discarded stone blocks left behind and vertical rock faces exposing all sorts of geological features such as vertical cracks, horizontal layers, caves and fossils. The scale of the space dwarfed any individual, or, perhaps it was the small presences of human bodies that made the space so huge and strange.

A small poppy had grown on one of the tall, pale, vertical stone walls, drawing one's eyes upwards to the tiny red spot in the distance way above eye level.

The expansive scenery seemed to call for small actions as if contrast was the only way to establish some kind of relation. Our explorations created different sounds that drifted though the quarry every now and again. The metal hydro-bags which had been left behind by the quarry workers and the high tension wires which Conall had brought in and strung between rocks began to sound with deep eerie tones, amplified by umbrellas and plastic bottles, which hung off the wires as resonating chambers.
The construction allowed objects and materials to resonate in unexpected ways, vibrating as if charged with high voltage. In the silence of the disused quarry noise carried a long way. Amy sounded out a big metal tank with high and low chants and wind blew noisily through our clothing and through the wings I had made for myself.
In another exploration I placed a small trampoline into different parts of the landscape alongside the massive stone blocks, and used it for bouncing up and down in quick rhythmic patterns. Looking back over the video footage it feels as if the intense repetitions mirrored and relieved the intensity of the open space.
(…)

The fragments we take with us in the form of video or sound are traces of our investigations of the site, they don't make up a story and don't form a coherent whole.

There is a video clip of an umbrella vibrating for no obvious reason, another clip of a waterbottle roaring like a Jimi Hendrix guitar, the projected image of a building scattered over a group of stone blocks, a photograph of a poppy and another of a black, head-size hole in an old tank, images of a figure standing on a pile of stone blocks gazing into the distance, a figure caught in mid air and a video of a hand tracing fossil imprints on the surface of a rock.
With thanks to the University of Brighton, The Portland Sculpture Quarry Trust and Albion Stone plc.
Seeing Through Stone' exhibition supported by Natural England, Aggregates Levy Sustainability Fund.

Thanks to Bob Ford for sharing his knowledge and insight about Portland's ecology, Bill Fairhall for technical inventiveness and Andrew Yale and Andrew Downs for photographic documentation.